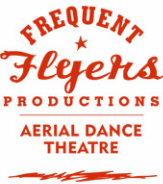 Her Aerial Dance Instructors Include:
Jacques Bertrand trained in classical and jazz dance. His dance career includes Nîmes Opera, Nancy Opera, "Parade" by Grey Veredon, eredon, Winter Olympics (opening and inter closing ceremonies directed by Philippe Découfl Découflé, 1992), "Sirella" aquatic show by é, Murielle Hermine. Then Jacques devoted his skills to the practice of aerial acrobatics. His career took a decisive turn after meeting Fred Deb' and he has become her stage partner as well as her assistant for teaching aerial disciplines. Recently he worked in the "Joseph Bouglione circus" and he acted in "Aerial Mic Mac" the Fred Deb' show.
Fred Deb' is a French aerialist specializing in aerial fabric and hoop. She studied at the French National Circus Arts Center of Châlons en Champagne and graduated in 1992. She was one of the fi first artists to rst investigate these aerial disciplines. A leading member of the French " Nouveau Cir Cirque que" movement she has toured for several years with the French aerial arts company: LES AR ARTS SAUTS. Deb' was also involed with "Cirque du Soleil" for training and choreography. She then discovered TS contemporary dance and theater theater, where she has continued , developing a relationship between the human body and space, and worked with dif different types of fabric. ferent Throughout her career Ms Deb' has been able to set in space aerial acrobats, actors and dancers. She has also choreographed several aerial fabric acts for other companies along with her own choreographic pursuits. Ms. Deb' provides performances full of elegance, virtuosity virtuosity, and , sensuality sensuality. She teaches aerial fabric workshops regularly in . France and abroad, (in San Francisco, Portland and Seattle). She works with a great variety of students, from professional to beginners, and from adults to children.